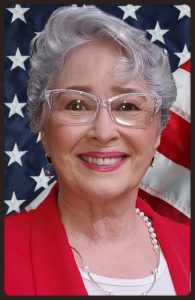 Phyllis Davis, CEO and Founder of American Business Etiquette Trainers Association (ABETATM) has created and trained in her topic of expertise as a foremost expert in ethics and etiquette in the workplace for the past 44 years.
Read Mrs. Davis' endorsements: CLICK HERE.
Mrs. Davis' popular book, E2: Using the Power of Ethics and Etiquette in American Business (Entrepreneur Press/Media 2004) launched a worldwide interest for Ms. Davis' work as an expert in the United States' financial services industry serving Fortune 500 Companies in the banking and insurance industries.
American Business Etiquette Trainers Association has certified more than 200 trainers in seventy-one countries. Her certified trainers teach the time-proven principles required for creating trust and rapport with their valued customers.
Mrs. Davis and her husband reside in Richmond, Virginia, near Washington, D.C. in the United States.
Phyllis Davis, Founder/Director ABETA – Managing Partner, 

Concept to Licensing LLC. 
(804) 467-3752  (EST) 

EMAIL.
---
September 1, 2020 – Mrs. Jamila Elias is an Etiquette Expert I had the pleasure of training and certifying within American Business Etiquette Trainers Association (ABETA) in 2010. She teaches the ABETA curriculum within the Kingdom of Saudi Arabia.
All negotiations and meetings that were followed by the signing ceremony were conducted remotely via the Internet, as required by the suspension of international flights due to the spread of the Covid-19 pandemic in the world.
This news article with photographs of Mrs. Elias and myself was released today in a newspaper in Saudi Arabia announcing the new agreement between ABETA and Mr. Elias' company, The House of Etiquette, to issue certifications to her graduates within Saudi Arabia.
The House of Etiquette & Protocol is a leading certified establishment based in Saudi Arabia since 2010, offering training programs which intend to empower individuals and corporates with lifetime important soft skills.
Jamila M. Elias  – Etiquette Expert certified by American Business Etiquette Trainers Association & Member of Protocol & Diplomacy International – Protocol Officers Association. Founder of The House of Etiquette & Protocol