Workplace Solutions For Ethics and Etiquette in American Business
This information is applicable to employees in large or small companies
as well as solo contributors.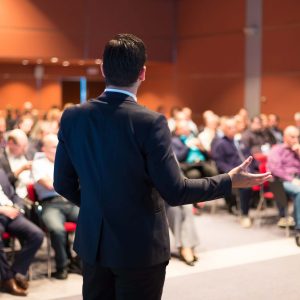 Ethics and Etiquette  in American Business offers employees various training options ranging from online audio followed by written testing, written training followed by testing, Zoom calls, and live training.
Phyllis Davis, Director and Founder of the American Ethics and Etiquette Trainers Association (2001), invests in the success of a company's future by teaching managers and the workforce current effective business practices. 
Her 35 years as a Corporate Trainer in the field of Ethics and Etiquette in American Business also mixes her humor to present a compelling case for serious topics such as hierarchy in the workplace, resolving issues with teams, or dining manners with clients. She presents what she calls 'sticky information' because no one ever forgets it once she presents it. 
If your company would like a Zoom training for an employee or an entire team with Phyllis Davis, Ethics and Etiquette Expert in American Business, please contact me and let me know how I can help you. 804-467-3752 EDT phyllis@etiquette-business.com               Join me on LinkedIn 
What Do People Learn about Ethics and Etiquette in American Business?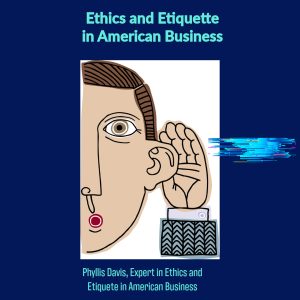 Employees learn critical thinking and cause-and-effect skills to create a higher level of civility in their workplace and with their customer base.

The company can improve the retention of top talent through communication of expectations.

There is lower turnover and absenteeism because employees feel productive in the workplace.

Employees learn ever-evolving workplace technology etiquette skills regarding smartphones, laptops, emails, Skype, Slack, and Zoom meetings.

The company's morale is higher due to skills for active listening and follow-up procedures.

They learn to spot roadblocks and create workarounds before issues become problems by brainstorming with their team members and collaborating on solutions because of their higher rapport skills.

Employees use innovative thought and fresh creative ideas in branding and marketing by connecting their company's message to the needs of current and potential customers.

There are fewer 'HR problems' related to interoffice conflicts, such as lying, gossiping, low productivity, anger, cursing issues, or insubordination.

Teams with higher levels of communication often exceed their expectations by committing to their intended outcomes.
"Not since Dale Carnegie has there been a person with the ability to affect so many people in such a positive way. Phyllis shows us and teaches us how to enrich our business and personal lives. The pleasant surprise is realizing that her information is applicable in everyday life. Phyllis Davis has shown us not only how to succeed in business but more importantly how to be better people." – Carl W. Starr Jr. – President of TPG Inc., James Webb Space Telescope – Aerospace Enginee